A member of the Commission on Civil Rights, Michael Yaki, has declared that many adults are too immature to be allowed to discuss political or other matters without the kind guidance of the thought police — specifically, he refers to college students:
"I mean where do you think you can, that the university can't deal with ensuring the route it has environment that is not oppressive or hostile because obviously a campus, especially certain types of campuses where there's a lot of, where, that are geographically compact, that have a lot of working and living situations in a close area to create a campus atmosphere.

"…

"And because of that, and because of the unique nature of a university campus setting, I think that there are very good and compelling reasons why broader policies and prohibitions on conduct in activities and in some instances speech are acceptable on a college campus level that might not be acceptable say in an adult work environment or in an adult situation."
Such infantile minds, then, are judged to be too child-like and juvenile to be able to speak and discuss anything freely.  Not just politics, but one's entire social environment on campus, then, must be protected from political incorrectness.
Funny, then, how these very same students who are not to be trusted with free and open debate so as to decide for themselves, are somehow trusted to decide the same for the populace at large by voting!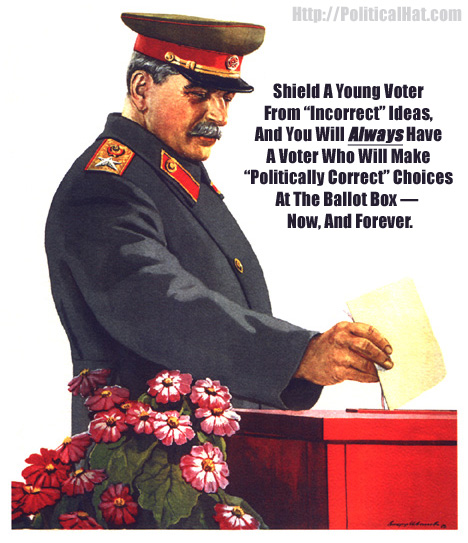 How dare these young and impressionable voters be exposed to "incorrect" ideas!
"It thus appears to me that Commissioner Yaki is coming out in support of speech codes that ban speech and symbolic expression that is perceived as conveying a racist or sexist message — despite past court decisions striking down such restrictions, including specifically in the context of racially and sexually offensive fraternity activities (see Iota Xi Chapter of Sigma Chi Fraternity v. George Mason University (4th Cir. 1993))."
Unsurprisingly, Yaki is a minion of the far Progressive left:
"Prior to working as the Civil Rights Commissioner, Yaki was a senior advisor to Rep. Nancy Pelosi (D-Calif.) and also served on San Francisco's Board of Supervisors where he was subsequently sued by the city for around 70 instances of illegal lobbying."
College students eighteen and up can vote thanks to the 26th Amendment.  Free speech, free press, and free assembly are necessary and proper for voters to make a fully informed and well though out choice.  "Shield" those same young voters from "incorrect" thoughts, and you will almost always have voters who will make the "politically correct" choice of the ballot box, not just for now, but for the rest of their lives
Hat Tip: College Insurrection.