Once upon a time, pronouns like "he" and "her" once referred to individuals identifiable as "men" and "women" based on (unusually) obvious and objective criteria, much in the same way a person can point at a tree and know it is a tree and bay so saying state an objective truth that another person can agree is so.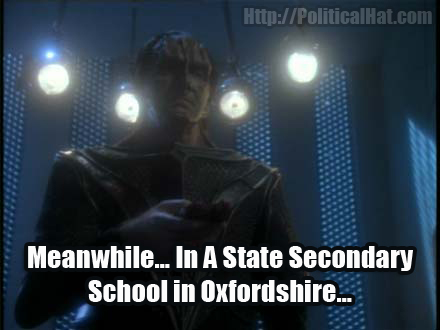 But in this brave new world of ours, it is impossible to refer to someone as a "he" or "she" without "assuming their gender", and such assumptions are now cause for punishment.
"A teacher has been suspended and could face the sack after he 'accidentally' called a transgender pupil a 'girl' in class when the student identifies as a boy.

"Joshua Sutcliffe, 27, who teaches maths at a state secondary school in Oxfordshire, said 'Well done girls' to the teenager and a friend when he spotted them working hard.

"He apologised when corrected by the pupil, but six weeks later he was suspended from teaching after the pupil's mother lodged a complaint.

"Following an investigation, he has been summoned to a formal disciplinary hearing this week to face misconduct charges for 'misgendering'."
In a world were people were tolerant, this teacher would be kindly informed that "he" and "her" do not refer to males and females, as it used to and still for the vast majority of the English speaking world still does, but to some subjective feelz that has appropriated the English language for totalitarian and insidious reasons that put Newspeak to shame.